FHA lending is a lucrative and growing segment of the mortgage market, especially for lenders who want to serve borrowers who need low down payments and flexible credit requirements. But how can you stand out from the crowd and dominate the FHA lending market in 2023?
The answer is data. Data can help you understand the trends, opportunities, and challenges in the FHA lending market, and helps you make informed and strategic decisions to grow your business.
That's where
FHAVision
comes in. FHAVision is a powerful app that models the monthly FHA originations data and provides you with data insights that you can't find anywhere else. FHAVision analyzes the data from multiple angles, such as interest rates, channel mix, product mix, geographic concentration, and top lenders, and presents all this in beautiful charts that you can easily understand and share.
In this blog post, we will share some of the data insights from FHAVision that can help you dominate the FHA lending market in 2023. Here are some of the key takeaways:
#1: FHA interest rates are going down
According to FHAVision (which is based on monthly FHA Endorsement data), the average FHA interest rate in March 2023 is 6.01% which is 35 basis points lower than the average rate of 6.36% in December 2022. This means that FHA loans are becoming more affordable and attractive for borrowers who want to save money on their monthly payments.
Fig.1: National FHA Average Interest Rate by Month
#2: FHA production is going up
The decrease in interest rates improved FHA loan production in March. The 2023 YTD FHA loan production was about 147,000 loans and about $41 Billion in loan volume. See Fig.2 below from FHAVision: both FHA purchase and FHA refinance loans jumped up in March compared to February. This means that more borrowers are choosing FHA loans, and that the demand for FHA lending is picking up in the market.
Fig 2: FHA Loan Production by Purchase and Refinance Mix (Number of Loans)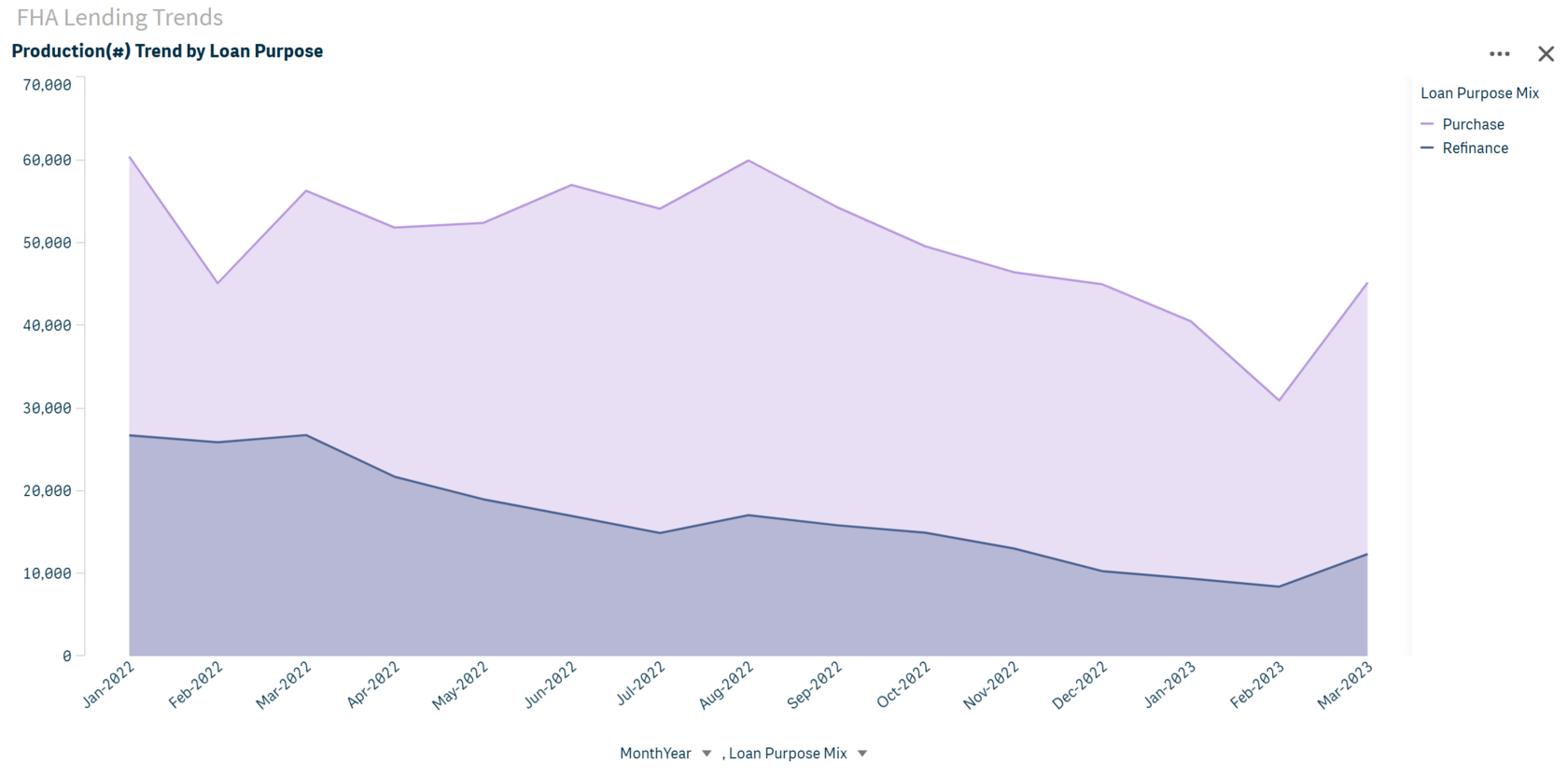 The announced FHA premium reduction may have some impact on the FHA mortgage interest rates. The
FHA
reduced its annual mortgage insurance premiums by 30 basis points (0.3 percentage points) for most borrowers, starting on March 20, 2023. This means that borrowers who obtain an FHA-insured mortgage after that date will pay less for their mortgage insurance, which could lower their monthly payments and make their loans more affordable. The exact impact of the FHA premium reduction on the FHA mortgage interest rates may depend on how the market reacts to the policy change and how it compares to other factors that affect mortgage rates, such as inflation expectations, economic growth, and credit risk.
As shown in Fig. 3 from FHAVision, the total FHA purchase loan volume for 2023 YTD is $33.9 billion. March 2023 led the volume growth with $13.3 billion in loan volume compared to $8 billion in February. The March FHA loan volume is still lower than March 2022, but it is higher than the March 2019 loan volume of $10.5 billion.
Fig. 3: FHA Purchase Volume Comparison 2023 vs. 2019 (Dollar Volume)
#3: The wholesale (broker) channel is gaining market share
As shown in Fig. 4 from FHAVision, the wholesale channel accounts for 22.6% of the FHA purchase loan production for 2023 YTD, up from 20% in 2019. This means that more FHA borrowers are using brokers to find the best deals and the best lenders for their needs, and that brokers have a significant influence on the FHA lending market.
Fig. 4: The wholesale channel took 22.6% market share of FHA purchase loans originated 2023 YTD as of March, up from 21% in 2022 and up from 20% in 2019.


#4: Top FHA Lenders compete by utilizing the broker channel
According to FHAVision, of the top 10 FHA purchase mortgage lenders 2023 YTD (through March 2023), 6 utilize the broker channel, 2 are builder mortgage companies, and 2 rely 100% on the retail channel for their FHA purchase originations. So far this year, the lenders utilizing the broker channel have the edge in rates. For example, United Wholesale Mortgage's weighted average interest rate for FHA purchase loans 2023 YTD is 5.82%, compared to 6.38% for one of their retail competitors also in the top 10. The overall comparison is closer - see Fig. 5.
Fig. 5: FHA Purchase Originations and Interest Rates by Channel 2023 YTD as of March.
#5: Geographic concentration is high
As seen in Fig. 6 from FHAVision, Texas and Florida are the top two states for FHA loan volume for 2023 YTD, accounting for 13.8% and 10.6% of the total FHA purchase loans respectively. This means that these two states have a large share of the FHA lending market, and that they offer great opportunities for lenders who want to expand their presence and reach more customers.
Fig. 6: Texas was the Number 1 state for FHA purchase loans originated 2023 YTD through March.
These are just some of the data insights from FHAVision that can help you dominate the FHA lending market in 2023. If you want to learn more about FHAVision and how it can help you grow your FHA lending business,
visit our website
or contact us today. We would love to hear from you and show you how FHAVision can give you an edge over your competitors.