With high market interest rates, high home prices, and a shrinking mortgage market, mortgage lenders are facing increasing difficulty in remaining competitive and growing their loan volume. One solution that many lenders are turning to is offering FHA loans, which can be a great way to serve their communities, attract more leads, turn those leads into borrowers more easily, increase revenues, and stand out from competitors in 2023.
What are FHA loans?
FHA loans are backed by the Federal Housing Administration and are designed to help people who might not qualify for conventional mortgages. This includes first-time homebuyers, people with lower credit scores, and those who can't afford a large down payment. Because the loans are backed by the government, lenders are able to offer them at lower interest rates and with more lenient qualification criteria. According to data presented in Figure 1, the most frequently originated FHA mortgages in the trailing 12 months to first-time home buyers had a credit score of 650-675, an LTV of 90-100%, and DTI of 45-50%. As a lender, understanding this data can help you evaluate the leads you are purchasing and optimize the effectiveness of your lead generation strategy.
Figure 1: FHA Credit Qualifications of Purchase Mortgages for First-Time Home Buyers
FHA loans come in many different forms and flavors. The figure above shows the state of the FHA forward purchase market for first-time home buyers. But there are many other FHA loans, as we will point out below.
How does FHA lending help mortgage lenders navigate the current market challenges?
When the mortgage market is small or growing very slowly, mortgage lenders have many challenges. We'll explore three challenges and how FHA lending can help meet those challenges and turn them into opportunities.
Challenge 1: Low inventory, high interest rates, and high demand for housing
Lenders can navigate this mortgage market challenge by deepening their product offerings with FHA loans. By offering FHA loans, lenders will:


Offer more options to first-time homebuyers and low-income borrowers to become homeowners. In a smaller housing market with low housing inventory and high interest rates, offering FHA loans presents an affordable mortgage lending alternative for thousands of future borrowers.
Increase market share and reach new segments. FHA loans are not only for LMI or first-time home buyers. There are many more segments that can be reached with this type of government loan, as shown in Figure 2 below.
Figure 2: FHA Loans Expand Lender's Borrower Segments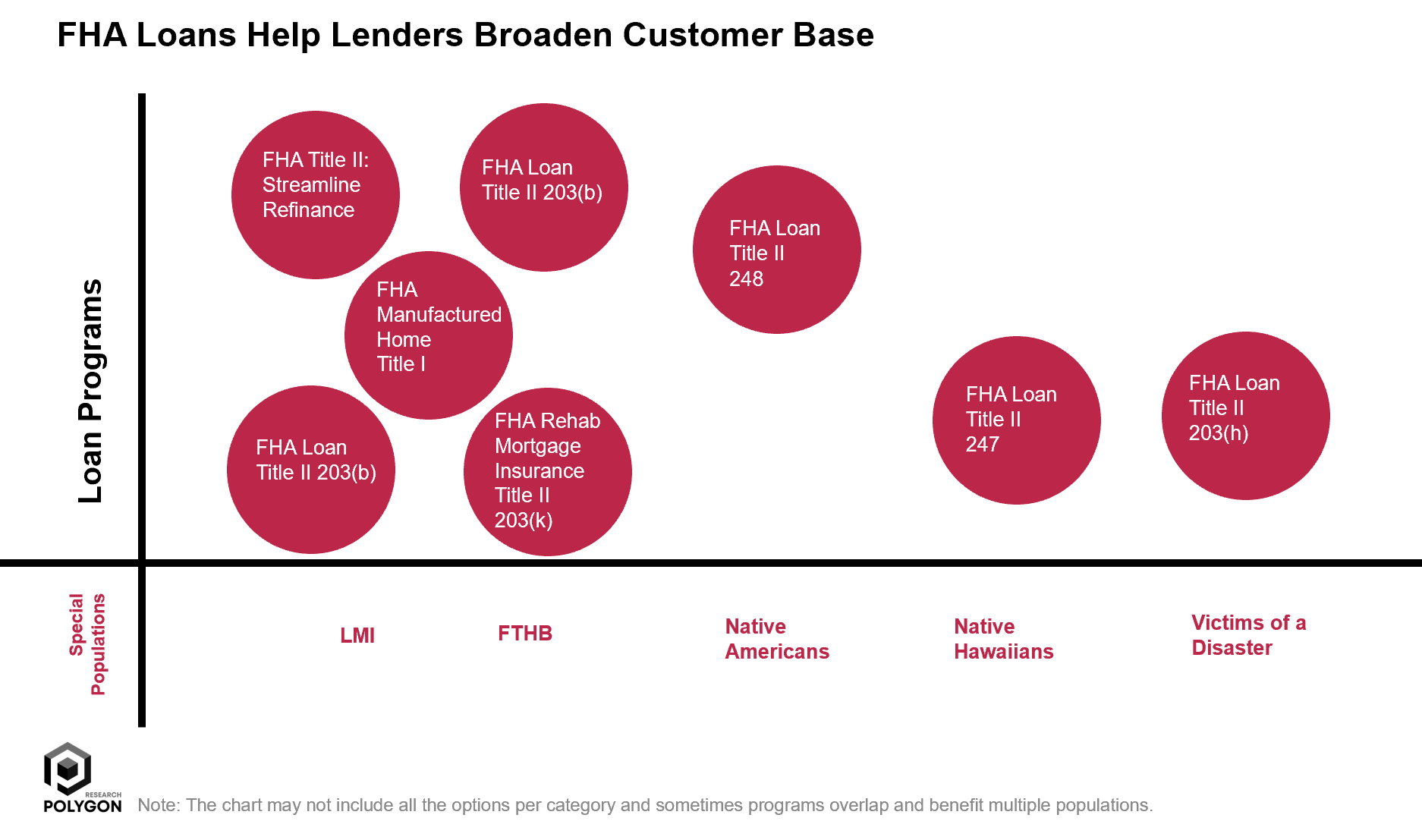 Challenge 2: Difficulty qualifying borrowers in a market with high housing costs.
In situations where a customer does not qualify for conventional mortgage, in many cases the lender can serve that borrower with FHA loans. For example, the lender can:


Offer lower down payments and closing costs to your customers. For example, the FHA loan comes with a minimum requirement for a 3.5% downpayment of the sales price (or the appraised value, whichever is less). With the upcoming reduction in the annual FHA insurance premiums, the costs will lower the annual MIP from 0.85% to 0.55% for most new borrowers who obtain an FHA-insured mortgage on or after March 20, 2023.
Take advantage of the increased FHA loan limits for 2023. These limits range from $472,030 to $1,089,300, depending on the county and property type. This means that lenders can offer larger loan amounts to borrowers to help qualify them for home purchase financing.
For example, let's take Montgomery County, MD as a use case. Figure 3 shows us that in this county, one-unit properties have an FHA Limit of $1,089,300 in 2023. The maximum loan-to-value (LTV) ratio for the FHA mortgage program is 96.5%, which means a borrower can make a down payment as low as 3.5% of the home's value or purchase price. To calculate the house price that $1,089,300 FHA loan can cover, let's use this formula - House price = Loan amount / LTV. So, using the FHA limit for 2023, the house price will be $1,089,300 / 0.965 = $1,128,758.
Figure 3: FHA Mortgage Limits for Montgomery County
This means that with a $1,089,300 FHA loan and a 3.5% down payment ($39,457), borrowers can buy a house worth up to $1,128,758 in Montgomery County MD. Using current MLS data, the average current listing price for a single-family home in Montgomery County, MD, was $976,926, making it possible to use an FHA loan to purchase a home in this market (
Source: Polygon Research analysis of Bright MLS data, 2023 YTD as of March 7, 2023
)
.
Challenge 3: Building Trust and Generating Mortgage Leads
Lenders can use the FHA loan offering to build strong relationships with their customers. By providing borrowers with a reliable and affordable option for financing their homes, lenders can establish themselves as trusted partners in the home buying process. This can lead to repeat business and mortgage referrals, which are key to growing the mortgage lending business.


Lenders can show their customers that they care about their needs and preferences especially in today's challenging housing market. By offering FHA loans, lenders can demonstrate that they are willing to work with them and find the best financing option for their situation.
Lenders can also educate them about the benefits and drawbacks of FHA loans, such as lower interest rates and fees, but higher mortgage insurance premiums (which will be lowered to 55 basis points beginning March 20), and stricter property standards. By providing honest and transparent information, lenders can help customers make informed decisions and feel confident about their choices.
By providing excellent customer service throughout the process, lenders can position themselves as trusted advisors to consumers. They can use that earned trust to ask for referrals and grow a solid mortgage lending business.
Offering FHA loans can be a win-win situation for both lenders and borrowers: lenders can expand their market share and revenue potential; borrowers can access affordable and flexible financing options.
Conclusion
FHA loans are a great option for lenders who want to navigate the current challenging mortgage market. FHA loans can help lenders broaden their customer base by serving borrowers with lower credit scores, high debt-to-income ratios, and low down payments. FHA loans can also enable lenders to provide affordable financing options for purchasing homes in high-cost areas. A successful FHA lending strategy requires lenders to have a complete understanding of the requirements, benefits, and risks associated with FHA loans, as well as their local market dynamics, optimal loan channels for FHA originations, and the competitive landscape.
To help with this, we have created two comprehensive and interactive dashboards for quick and precise analysis of FHA lending space -

FHAVIsion

and

GNMAVision. Get in touch with us now and get ready to grow your business with FHA loans: info@polygonresearch.com.